Chobe Master® Instant Brown Rice Drink (Goats Milk Kurma)
CHOBE MASTER INSTANT BROWN RICE DRINK
(GOATS MILK KURMA)
WHAT IS CHOBE MASTER INSTANT BROWN RICE DRINK (GOATS MILK KURMA)?
Chobe Master Instant Brown Rice Drink (Goats Milk with Kurma Ajwa), is using Netherlands goat whole milk, together with whole brown rice grains, the germ, and bran of brown rice (more than 50% whole grain per serving) that provide great sources of protein, dietary fiber, and vitamin. The new formulation has been added with Multivitamin and Polydextrose (prebiotic) which are loaded with essential nutrients that the human body needs.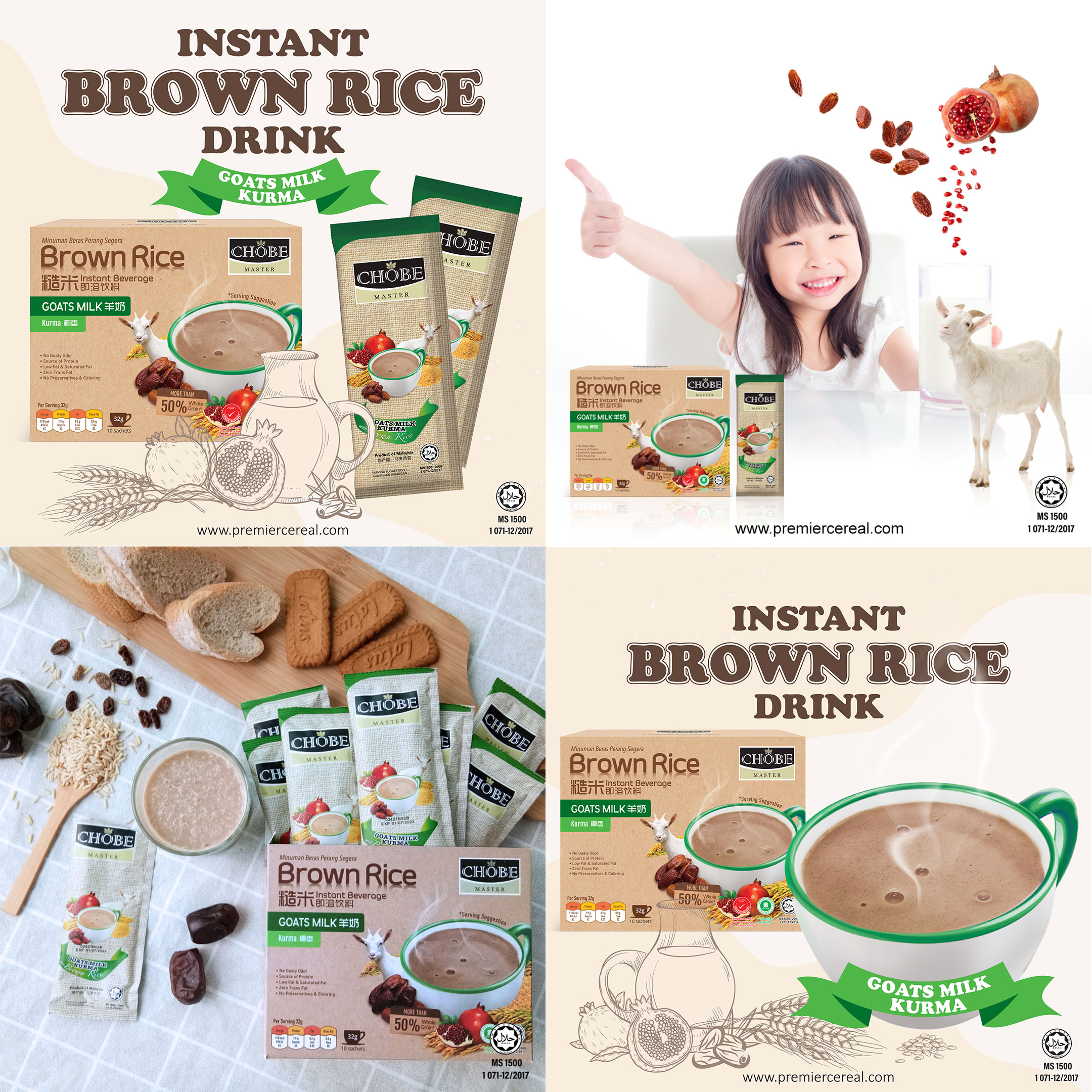 Nowadays, most of the population in Malaysia will consume more white rice than brown rice, and an estimated around 6% out of 31.95mil Malaysian (2019) drink soft drinks several times daily.
WHAT WILL HAPPEN TO YOU?
✅ Risk Of Diabetes
✅ Risk Of Heart Health
✅ Risk Of High Blood
✅ Risk Of High Cholesterol
✅ Digestive Problem
✅ Risk Of High Glucose
✅ Obesity
WHAT ARE THE BENEFITS OF CONSUMING A CHOBE MASTER INSTANT BROWN RICE DRINK (GOATS MILK KURMA)?
👉 Control Cholesterol Levels
👉 Boost Heart Health
👉 Improve Digestive Health
👉 Beneficial For Nervous System
👉 Boost Immune System
WHO CAN DRINK CHOBE MASTER INSTANT BROWN RICE DRINK (GOATS MILK KURMA)?
✅ Gout Patient
✅ Senior Citizen
✅ Kids (4 Years Old & Above)
✅ Pregnant / BreastFeeding Mom (need to take more water)
PRODUCT FEATURES HIGHLIGHTS
100% imported Netherlands Goats Milk

More than 50% whole grain

No Goaty Odor

Source of Protein

Low Fat & Saturated Fat

Zero Trans Fat

No Preservatives & Coloring
INGREDIENTS
Brown Rice, Netherlands Goat's Milk, Cereal, Dates (Kurma Ajwa), Raisin, Honey, Pomegranate Extract, Habbatus Sauda, Brown Sugar
OTHER INGREDIENTS
Kurma Ajwa - Boost energy

Habbatus Sauda - Improve cognitive function

Raisin - Rich fiber, vitamins, minerals

Honey - Provide energy for blood formation

Pomegranate Extract – Antioxidants
Rich in Vitamins & Minerals

Calcium, phosphorous, iron, magnesium, vitamin B5, vitamin A

Better Digestion

Better Lactose Tolerate

SERVING PREPARATION
✅ Pour a sachet into a cup.
✅ Add about 180ml hot water (85˚C-90˚C).
✅ Stir well and serve.
SPECIFICATION
32g x 10 sachet
SHELF LIFE
20 months
CERTIFICATION