Chobe Master® Instant Brown Rice Drink (Cereal)
CHOBE MASTER INSTANT BROWN RICE DRINK
(CEREAL)
WHAT IS CHOBE MASTER INSTANT BROWN RICE DRINK (CEREAL)?
Chobe Master Instant Brown Rice Drink (Cereal) carries the original natural fragrance of brown rice, together with the cereal flakes packed in vitamin B3 & B6, minerals, and proteins. More than 50% wholegrain packs in a sachet!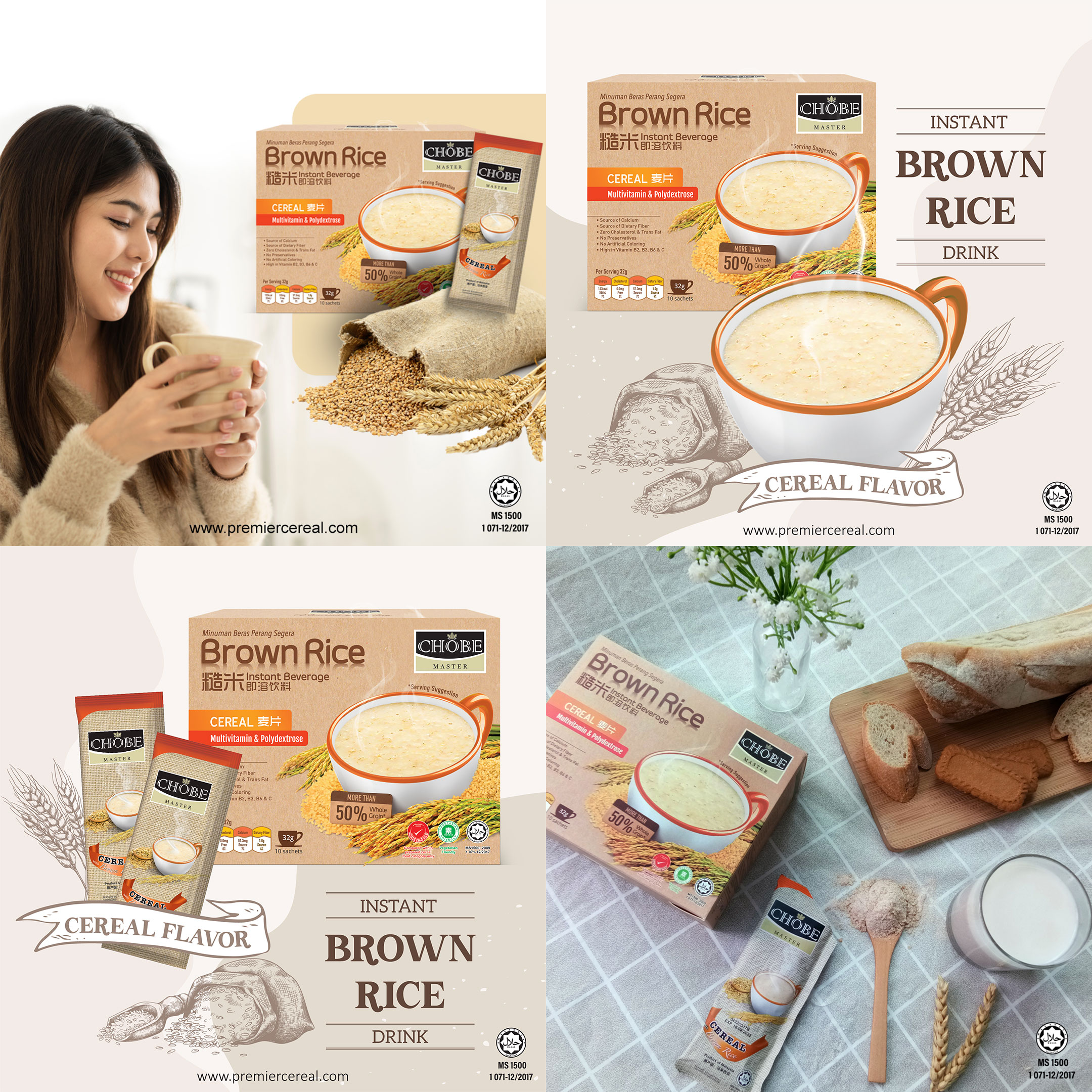 Nowadays, most of the population in Malaysia will consume more white rice than brown rice, and an estimated around 6% out of 31.95mil Malaysian (2019) drink soft drinks several times daily.
WHAT WILL HAPPEN TO YOU?
✅ Risk Of Diabetes
✅ Risk Of Heart Health
✅ Risk Of High Blood
✅ Risk Of High Cholesterol
✅ Digestive Problem
✅ Risk Of High Glucose
✅ Obesity
WHAT ARE THE BENEFITS OF CONSUMING A CHOBE MASTER INSTANT BROWN RICE DRINK (CEREAL)?
👉 Control Cholesterol Levels
👉 Boost Heart Health
👉 Improve Digestive Health
👉 Beneficial For Nervous System
👉 Boost Immune System
WHO CAN DRINK CHOBE MASTER INSTANT BROWN RICE DRINK (CEREAL)?
✅ Gout Patient
✅ Senior Citizen
✅ Kids (4 Years Old & Above)
✅ Pregnant / BreastFeeding Mom (need to take more water)
PRODUCT FEATURES HIGHLIGHTS
More than 50% whole grain

High in Vitamin B2, B3, B6 & C

Source in Calcium

Source of Dietary Fiber

Zero Cholesterol & Trans Fat

No Preservatives

No Artificial Coloring
INGREDIENTS
Brown Rice, Malted Extract Cereal, Brown Sugar, Multivitamin, Polydextrose
WHY ADD POLYDEXTROSE?
Prebiotics (soluble fiber) help promote the growth of good bacteria in our gut. It promotes regularity, reduces constipation, supports healthy blood glucose, and may assist with weight management.
POLYDEXTROSE
A soluble fiber & healthful in prebiotic benefits.

Is bifidogenic (help to increase intestinal bifidobacteria & maintain good intestinal
microflora.

Help promote regularity, as a result of its faecel bulking.

Supports healthy blood glucose levels by eliciting a lower blood glucose response.

Is ideal for reduced-calorie foods and may assist with weight management.

Heat, pH, and Shelf life stable over Inulin/ GOS / FOS.


SERVING PREPARATION
✅ Pour a sachet into a cup.
✅ Add about 180ml hot water (85˚C-90˚C).
✅ Stir well and serve.
SPECIFICATION
32g x 10 sachet
SHELF LIFE
20 months
CERTIFICATION