CHOBE® NURTURING BABY FOOD "a 1st Taste" of real brown rice specially designed for your
little one. Using all-natural ingredients (non-GMO ingredients), no preservatives, salt or sugar, dairy ingredients, artificial colors or fragrances. In a well-balanced manner, additionally with plenty of rich-packed nutrients, prebiotic, DHA and multivitamins make the little pie feeling fuller and tremendously happy.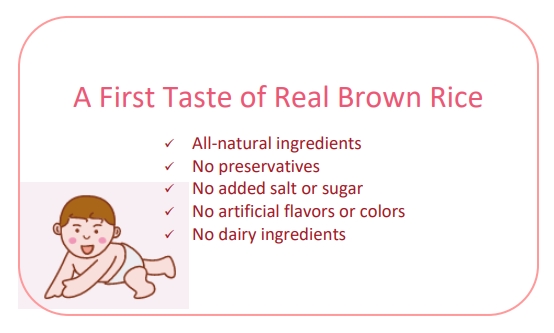 Product Features Highlight
✓ No Preservatives
✓ No Artificial Flavoring & Coloring
✓ High in Dietary Fiber
✓ High in Vitamin C & E
✓ Source of Protein
✓ High in Calcium
✓ Source of Iron
✓ Zero Trans Fat
✓ Contains Prebiotic (Polydextrose)
✓ Enriched with Multivitamin (Vitamin A, C, D, E & B Complex)
✓ Enriched with DHA, ALA & EPA
✓ Quick & Easy to Prepare
✓ Promote Satiety
Key Benefits
• Anthelmintic properties
• Boost immunity
• Help for bowel movement
• Promote energy levels
Preparation Method

1. Pour 60-80ml of lukewarm water into baby's bowl.
2. Mix 1 sachet of CHOBE® NURTURING BABY FOOD and stir to even out the temperature.
3. Stir until the CHOBE® NURTURING BABY FOOD is smooth and feed with clean spoon.
Can substitute water with milk powder/ fresh milk:
***Serving Size (18g) = 6g milk powder + 60ml lukewarm water
***Serving Size (18g) = 60ml fresh milk